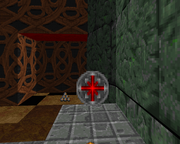 The
Darchala's Chaos Device
is an artifact found in both
Heretic
and
Hexen
. When used, it sends the player back to the start of the level (or near a portal the player came from in Hexen). It is best used to get out of unpleasant or dangerous situations (like, say, if the player is falling to his death; use of the artifact will instantly save him). The figure featured on the artifact closely resembles the "
symbol of chaos
" designed by Michael Moorcock.
In Heretic, if the player holds a Chaos Device when he is hit by the powered-up projectile of the Firemace (whose contact is normally lethal), the device will trigger automatically to save the player. However, the player will still lose half his health.
See Also:
Heretic Items
Health
Armor
Weapons
Ammo
Items
Artifacts
Hexen Items
Health
Armor
Weapons

Baratus (Fighter)
Parias (Cleric)
Daedolon (Mage)

Artifacts
Misc.
Community content is available under
CC-BY-SA
unless otherwise noted.