This article is a stub. Please help the Doom Wiki by expanding it.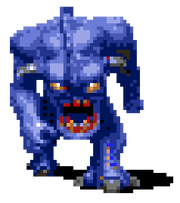 Belphegor are demon class monsters that first appear in Sector 5 in Doom RPG.
Etymology
Belphegor is one of the seven demonic princes of Hell in demonology, who is known to help people find discoveries. He is as well one of the demons part of the Seven Deadly Sins, classified as sloth/laziness.
Doom RPG Monsters
Zombies
Commandos
Imps
Lost Souls
Pinkies
Cacodemons
Pain Elementals
Revenants
Mancubi
Arch-viles
Barons
Hellhounds
Bosses
Doom II RPG Monsters
Zombies
Commandos
Imps
Lost Souls
Pinkies
Cacodemons
Pain Elementals
Revenants
Mancubi
Arch-viles
Barons
Sawcubi
Watchers
Bosses