This article is a stub. Please help the Doom Wiki by expanding it.
The Beholder is a Pain Elemental variant in Doom RPG and Doom II RPG. When killed, the Beholder explodes, releasing two Phantoms.
Etymology
"Beholder" is a name of the Dungeons and Dragons monster appearing as a floating head with a cyclopic eyeball and fang-filled mouth, hence the said Doom RPG monster's design.
Its name is also a term describing a person who sees/observes someone or something.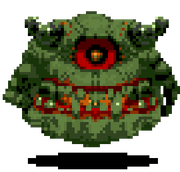 It could reference the phrase "Beauty is in the eye of the beholder", which isn't entirely true for this guy.
Doom RPG Monsters
Zombies
Commandos
Imps
Lost Souls
Pinkies
Cacodemons
Pain Elementals
Revenants
Mancubi
Arch-viles
Barons
Hellhounds
Bosses
Doom II RPG Monsters
Zombies
Commandos
Imps
Lost Souls
Pinkies
Cacodemons
Pain Elementals
Revenants
Mancubi
Arch-viles
Barons
Sawcubi
Watchers
Bosses