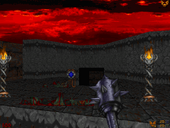 The
Amulet of Warding
is an item in
Hexen
that increases your character's
armor
class. Its appearance is that of a necklace with a leather strap and with a blue gem set in silver. The
Fighter
receives 1 point of armor, the
Cleric
receives 4, and the
Mage
receives 5.
Trivia
In this context, "warding" refers to guarding, repelling, or a defensive enchantment. It comes from the Old English "weardian", which means to guard. Template:-
See also
Hexen Items
Health
Armor
Weapons

Baratus (Fighter)
Parias (Cleric)
Daedolon (Mage)

Artifacts
Misc.
Community content is available under
CC-BY-SA
unless otherwise noted.