Arcane: League of Legends - The Loop
Play Sound

This article is a stub. Please help the Doom Wiki by expanding it.
ARC Complex is the sixth level of the campaign in Doom Eternal.
Description
Having destroyed the Super Gore Nest, the hunt for the remaining Hell Priest continues. Unable to identify his position due to the Khan Maykr's interference, you travel to the ARC Complex, headquarters of the Armored Response Coalition (ARC), in search of Dr. Samuel Hayden, leader of the human resistance on Earth and the only person capable of finding the final Priest.
Objectives
Quick Travel Locations
Emerson Hotel
Mario's Restaurant
Arc Turret
The Waste Tunnels
Vargo Convention Center
Atrium Offices
Moring Aeronautics
Convention Parking
Mission challenges
Rune Ensemble: Acquire 2 Runes.
External Combustion: Overload a shield with the Plasma Rifle to kill 6 Demons.
Rocket Removal: Destroy 4 shoulder launcher Weak Points on Revenants.
Walkthrough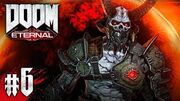 See also