Arcane: League of Legends - The Loop
Play Sound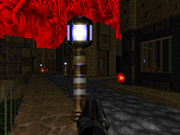 Doomworld's 10 Sectors competition was held in 2000 and is widely regarded as one of the most successful editing competitions in the history of Doom. It was inspired by a similar competition in the Unreal community called the 5 cubes competition.
In turn, Aardappel (whose submission to this competition, created with WadC, was chosen as one of two "special interest" levels) organized the 100 Brush Competition in the Quake community.
The premise
The idea was simple: create the most interesting Doom II level you can using a mere 10 sectors.
The contest was organised by Linguica and judged by Andrew Bassett, Matthew "Mattrim" Dixon, Martin Friberg, and Gaston Lahaut.
The results
Michal Mesko's map was judged the winner of this competition. The top three maps, 27 runner-ups, and two "special mention" entries are available from an idgames archive mirror in the section /levels/doom2/Ports/megawads/, as 10sector.zip.
The remaining entries were collected together and released subsequently as 10 Sectors 2.
Levels
MAP02: Hangar, by

Øystein Langhelle

MAP04: 60 Feet Under, by

Cephaler

MAP05: Into the Fray, by

Cephaler

MAP06: Pain Manor, by

Arno Ansems

MAP08: Frenzy,

Gonzalo Perez de la Ossa

MAP09: UAC Base, by

Kinkajoy

MAP10: Tension, by Cyb
MAP11: Decade-ence, by

Paul Schmitz

MAP15: Computer Complex, by

Paul Berlin

MAP16: Tech Base: Sector 10, by

Michael Niggel

MAP19: Nukage Town, by

Sami Mäki-Mantila

MAP21: Crunch!, by

Vlad "blod" Sosedkin

MAP22: Storm Approach - Dark City, by

Robert Beladi

MAP24: Hidden Facets, by

Qingshuo Wang

MAP29: The Black Wind of Mayhem, by

NokturnuS

MAP31: Marle - The Horrible Bitchgoddess, by

Kevin Nadolski
See also
External links
Top 100 WADs
1995
Fava Beans

Boothill

Gather2

Artifact

Nostromo's Run
1996
AOD-DOOM

Polygon Base

Trooper's Playground

Hidden Mountain Factory
1997
Talosian Incident

Dawn of the Dead

Hell's Eventide

Chord_ng
1998
GothicDM2

Phobos

Earth

Venom

Tantrum 2

Dickie 10

Run Buddy

Odessa 14

Crestfallen
1999
KZDoom1

ChordG

Jägermörder

Assault at Tei Tenga

Herian 2
2000
10 Sectors

Chord3

Hell Factory

Painful Evil

KZDoom6

Atomic Tomb
2001
Sin City

Null Space

The Darkest Hour

Equinox

KZDoom7

TVR!
2002
Caverns of Darkness

Dark 7

and

Mission Pack

Nimrod

CH Retro Episode

Ruma

007: License to Spell Doom

Rip It, Tear It, Smash It

Congestion Control
2003
Brotherhood of Ruin

Doom Raider

Helpyourselfish

RTC-3057

Demo