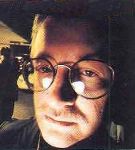 John W. Anderson (aka Dr. Sleep), born on November 7, 1956, is a game designer, level designer, and writer.
He is probably best known in the Doom community for his Inferno series of maps, originally conceived as a full episode replacement of nine "cantos":
Dante's Gate and Crossing Acheron were standalone releases. Created in 1994 before sophisticated editing tools were available, they were widely praised by Doomers and, according to Dr. Sleep, led directly to an offer of employment from id Software.
The next five levels were included in the Master Levels for Doom II package.
"Chiron" became E4M7: And Hell Followed in Ultimate Doom.
A final installment, "Lethe" (also variously mentioned as "Waters of Lethe"), was still in development as of late 2004 but remains unreleased; the only details released are a few screenshots.
The architecture and storyline of the series was inspired by "Inferno" in the epic poem The Divine Comedy by Dante Alighieri, which describes a descent into hell. Several mappers of later generations, such as Samuel "Kaiser" Villarreal and Paul Corfiatis, have cited Dr. Sleep's unique and attractive aesthetic as a basis for their own designs.
Dr. Sleep has also written a comprehensive Doom Builder guidebook, and maintains the official distribution (though not the code itself) of the venerable editor DETH. His non-Doom projects include Blood (Q Studios), Unreal (Epic MegaGames), Daikatana (Ion Storm), and a definitive bibliography of H.P. Lovecraft.
Dr. Sleep is alive and well and currently living somewhere in the Laurel Mountains of southwestern Pennsylvania.
Sources
External links